Concept
In 2008, the Juri Artamonov Trio recorded a very successful swing album, "Moskauer Fenster". With this production, piano virtuoso Juri Artamonov realised a heartfelt wish: to rearrange and interpret old Soviet film melodies and Russian chansons for his swing trio.
This time, with "Bayreuth swings", it is not the pianist but the double bass player who provides the arrangements. Martin Gehrmann has been familiar with Wagner's music since the 1970's, when Wagner-enthusiastic relatives introduced him to the works of Germany's greatest opera composer. In the decades to follow, Gehrmann attended countless different Wagner productions in all major opera houses across Germany. He has seen his favourite Wagner opera, "Meistersingers", more than 30 times.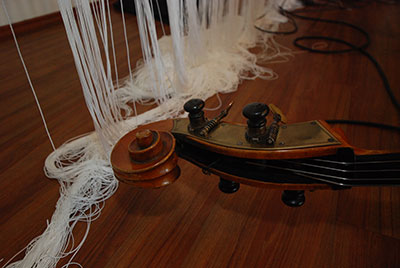 Originally, "Bayreuth swings" was planned to be a compilation of titles from "Meistersingers", Wagner's only comic opera. But as the work on the arrangements progressed, Gehrmann decided to consider material from other Wagner operas as well. He developed an album concept that included at least one title from all major works in Wagner's oeuvre. The resulting album, "Bayreuth swings", is not only a reverence to Wagner's 200th birthday in May 2013. It is also probably the first album ever to honour Wagner's fabulous music with a piano-trio.